04/2023: The family-owned, globally active Danish LEGO Group broke ground in mid-April 2023 on its new carbon-neutral run factory in Chesterfield County near Richmond, Virginia.  This is a US $1 billion investment in the company's long-term growth globally and will help delight millions of children in the Americas with LEGO® play. 
Once completed in 2025, the 340 acres site, the size of 260 American football fields, will have rooftop and ground solar panels and an on-site 35-40 MW solar plant, generating the equivalent of the energy needed to power approximately 10,000 American homes. The LEGO Group's ambition is for the solar plant to match the total annual energy requirements of the site. It will use the latest energy-efficient production equipment while buildings and manufacturing processes are designed to minimize energy use.
Carsten Rasmussen, Chief Operations Officer of the LEGO Group said: "We are absolutely delighted to mark the beginning of construction here in Virginia. We are grateful for the fruitful collaboration we have had with all partners across the Commonwealth of Virginia who share and support our ambition to build this factory.
The groundbreaking ceremony was attended by LEGO Group Chief Operations Officer, Carsten Rasmussen; LEGO Group Regional President, Americas Skip Kodak; along with top Virginia state officials and key partners.
To celebrate the groundbreaking, the LEGO Group revealed it will officially ramp up its community investments by providing over US $1 million to charitable organizations that support local children from disadvantaged backgrounds with learning through play programs.
Landscape design inspired by children
In March, the LEGO Group invited 250 children to share their ideas for making the land around the factory buildings welcoming to animals, plants, and visitors.  The children's boundless creativity will inspire the final landscaping design in 2025.
Locating factories close to major markets
The LEGO Group employs more than 3,000 people in the USA, operating over 100 LEGO stores across the USA, including 3 stores in Virginia.  The factory investment in Virginia will expand the LEGO Group's global manufacturing network which is designed to locate factories close to major markets. This allows the LEGO Group to respond to shifts in local demand, shorten the supply chain, and reduce its environmental impact. LEGO will open a new site in Vietnam by 2024 and is expanding existing factories worldwide.
Recruiting 1,760 skilled employees, a diverse and inclusive workplace
The LEGO Group is currently recruiting up to 500 people to join a temporary packing facility due to open in the first half of 2024. Once the main factory is fully operational, it will employ 1,760 highly skilled workers responsible for operating state-of-the-art moulding, processing, and packing machinery.  The company is participating in the Virginia Talent Accelerator Program to raise awareness in the local talent market of current and future roles.  The LEGO Group is committed to providing safe, diverse, and inclusive workplaces where everyone feels welcome.  The company also offers inclusive benefits such as extended paid parental leave: 26 weeks of leave at full pay for the primary caregiver and 8 weeks for the secondary caregiver to be decided by the parents.

Photos: ©2023 The LEGO Group, Denmark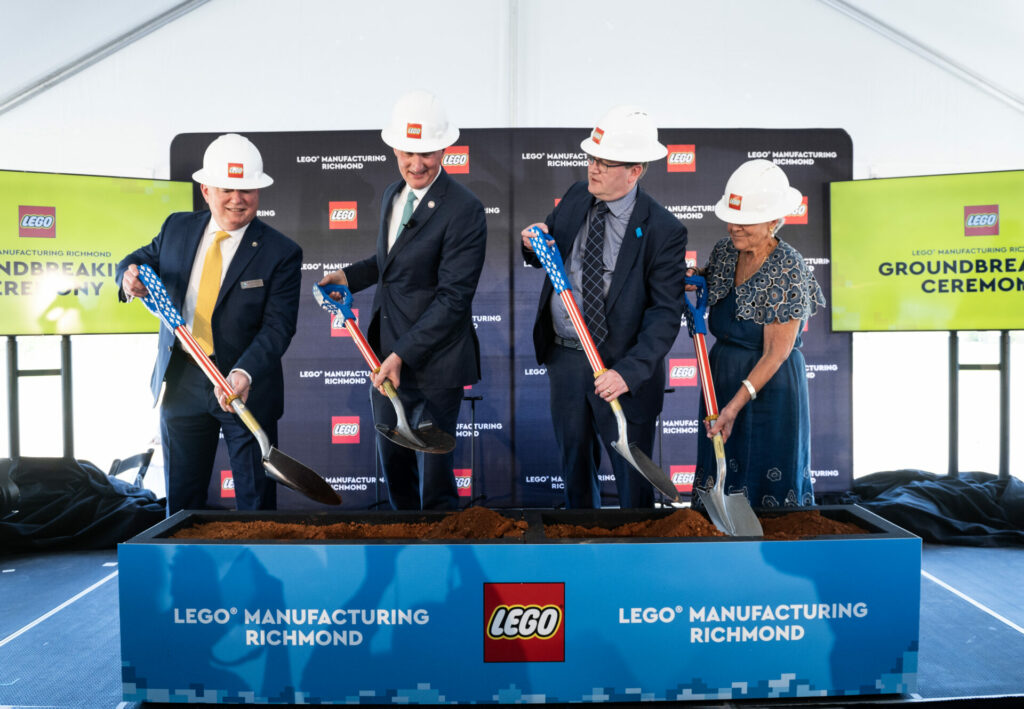 More Posts