The French Industry Leader for Fruit Processing  has a 80-years long history in the State
Governor Glenn Youngkin was pleased to announce that Bowman Andros Products, a global leader in fruit processing, frozen desserts, dairy, and confectionery products, will expand its Mt. Jackson operation in Shenandoah County. The company will build an additional production facility at 10119 Old Valley Pike adjacent to its existing plant and Bowman Andros will also expand with a new research and development center, enabling the company to continue diversifying its capabilities and product offerings. 
"Bowman has provided high-quality jobs for the citizens of Shenandoah County for more than 80 years and we applaud its continued commitment to the Commonwealth with this expansion," said Governor Glenn Youngkin. "The company's long-term growth reinforces the strength of Virginia's world-class workforce, reliable infrastructure, and sought-after quality of life, and we thank Bowman Andros for contributing to the Commonwealth's success in food and beverage processing."
 
"Bowman Andros has always been committed to its employees and to the Valley. Andros shares the same values worldwide. When this major investment project was initiated, the company had several location options. However, we wanted to be loyal to our great people and to the community by expanding here in Mount Jackson," said Sylvain Dronet, CEO, Bowman Andros.
 "We know this project will be successful with their qualities, work ethic, and core values. We also feel welcomed and greatly supported by the state of Virginia and the Virginia Economic Development Partnership. This is a key first milestone for a factory that will be a U.S. gold standard in our industry. We expect a lot of growth that should generate additional investments in manufacturing and activity in our beautiful Valley." The VEDP worked with Shenandoah County to secure the project for Virginia. Former Governor Ralph Northam approved a performance-based grant of $400,000 from the Virginia Investment Performance Grant, an incentive that encourages continued capital investment by existing Virginia companies.

Bowman Andros Products is the combination of two family-owned industry leaders, unified in providing unique, high-quality, fruit-based foods. Andros Foods North America, a subsidiary of France-based Andros Food Products, is a leader in fruit processing, frozen desserts, dairy, and confectionery. In 2011, Andros Foods North America acquired Bowman Apple Products, which has thrived in Shenandoah County since 1939. Bowman Andros Products is harvesting a cumulative 150+ years of fruit processing experience, along with production and packaging innovation, to bring its heritage of high-quality products to its global partnerships. Buddy Fruits® is made domestically in Virginia, and the company's imported brands are Bonne Maman® and Andros® Chef.
Photo: © Andros Foods North America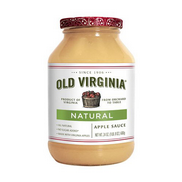 More Posts